How to Submit a Review
To submit a review of a dealership, first visit Find a Dealer to locate the listing on our site.  On the dealership's page, scroll down to "what customers say". Select Sales or Service and then click on the button to write and submit your review.
Edmunds Registration
To complete the review submission process, you will be asked either to sign-in to your Edmunds account or to register with Edmunds (as shown below):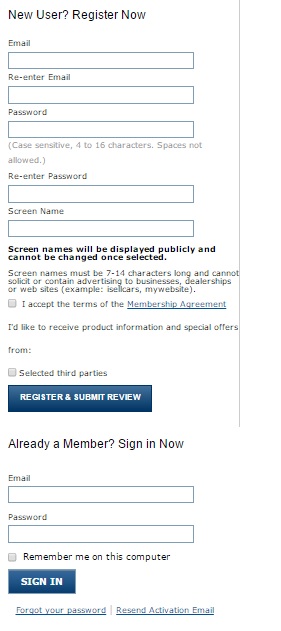 IMPORTANT: A verification link is sent to the email address you enter during the registration process. You MUST CLICK this link in order to complete your Edmunds registration; otherwise, your review will not be published. (If you do not receive an activation link via email, please check your spam folder to ensure it hasn't been routed there by mistake.)
Basic Review Writing Guidelines
Reviews should describe a recent personal experience at the dealership (within the last two years), featuring any specific details or other information that you think consumers would find helpful when considering a visit.
Please do not write a review of a dealership if you've received an incentive to do so (such as a free oil change) or if you are in any way affiliated with the dealership owners or staff. Edmunds only publishes reviews from objective sources.
Also, reviews cannot be written in ALL CAPS, contain profanity or name-calling, solicitations, personal contact information, HTML or links. 
Please review our Visitor Agreement for complete details on what is acceptable. Note that we reserve the right not to publish any review that does not satisfy our standards.
When a Review is Published
Because we read and evaluate every dealership review prior to its publication, it usually takes two business days from the time a review is submitted before it appears on the site.
Edit or Update a Review
Once submitted, a review cannot be edited. However, you are allowed one update to your published review in order to add more information, to retract or correct anything you originally included and/or to revise the star rating. To submit an update, go to the page where your review is published and click the "Update" link. Note that you must be logged-in to Edmunds in order to add an update.
Comment on a Review
If you are registered with Edmunds, you may comment on reviews. Comments can be positive or negative, ask questions and/or provide supporting information. Edmunds promotes an environment in which civility prevails and strongly encourages our contributors to "agree to disagree" when conflicts occur.
If you are associated either personally or professionally with the business being reviewed, please disclose this in your comment. In order to keep the reviews on Edmunds trustworthy, we want to make sure that the readers always know whenever a contributor's perspective may be influenced by his or her personal connections.
Disagree with a Review
If you disagree with a review, we encourage you to post a comment in response to the review (as described above).
Remove a Review
Once published, a review is available indefinitely. We may, however, exercise our right to remove a review at any time -- for example, if we determine that the review violates our submission guidelines or rules, or our Visitor Agreement. However, we are not obligated to remove any review, and will do so only at our discretion.
If you believe a review should be considered for removal, please click the "Report It" link on the review in question. Provide the reason(s) why you believe the review should not have been published. We will investigate and take any necessary actions.
Additional Info for Dealerships
If you represent a dealership, please visit our Dealer Resource Center. For information concerning our policies for Dealer Ratings & Reviews, please see our FAQ, Reviews for Your Dealership.